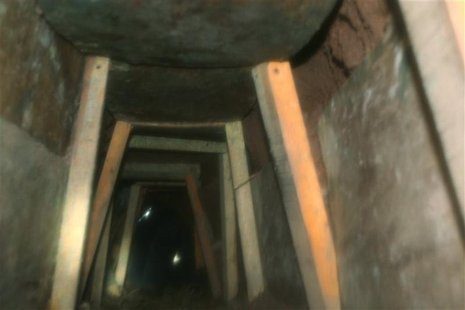 SAN DIEGO
(AP)
-- An estimated 17 tons of
marijuana
were seized in the discovery of a cross-border tunnel that authorities said Wednesday was one of the most significant secret drug smuggling passages ever found on the
U.S.-Mexico border
. The tunnel discovered Tuesday stretched about 400 yards (400 meters) and linked warehouses in San Diego and Tijuana, authorities said. U.S. authorities seized about nine tons of marijuana inside a truck and at the warehouse in
San Diego's
Otay Mesa
area, said Derek Benner,
U.S. Immigration and Customs Enforcement
special agent in charge of investigations in San Diego. Mexican authorities recovered about eight tons south of the border. Authorities spoke at a news conference near packages of seized dope festooned with labels of
Captain America
, Sprite and
Bud Light
. The markings are codes to identify the owners. Photos taken by Mexican authorities show an entry blocked by bundles that were likely stuffed with marijuana, said Paul Beeson, chief of
the Border Patrol
's San Diego sector. Tunnel walls were lined with wood supports. The passage was equipped with lighting and ventilation systems. The tunnel was about four feet high and three feet wide. It dropped about 20 feet on the U.S. side. Two men allegedly seen leaving the warehouse in a truck packed with about three tons of pot were pulled over Tuesday on a highway in suburban La Mesa and arrested. A
California Highway Patrol
officer was overwhelmed by the smell, according to a federal complaint. Cesar Beltran and Ruben Gomez each face a maximum penalty of life in prison if convicted of conspiracy to distribute marijuana, said Alana Robinson, chief of the U.S. attorney's narcotics enforcement section in San Diego. They were scheduled to be arraigned Thursday. Cross-border tunnels have proliferated in recent years, but the latest find is one of the more significant, based on the amount of drugs seized.
Follow @YardFlex