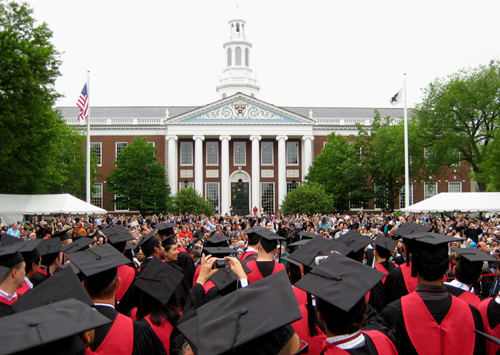 Lady Gaga
has said and done a lot of bizarre, outrageous things throughout her career. So I'm glad she's finally saying something that makes sense. The singer says the type of man she's attracted to varies a lot, but there is one quality she would like her guy to have--a good education. Yes, Lady Gaga needs someone who can match or surpass her in intelligence. She needs someone to challenge her
intellect
, preferably with a degree from an
Ivy League
university. Either that, or he has to have a big penis. "Talent and perseverance and pushing the boundaries of love and acceptance," Gaga said of what it takes for a man to win her over. "I don't know. I can't really say. It ranges from a really big [penis] to a degree at
Harvard
. Just about anything." Lady Gaga has been on and off with her drummer/bartender boyfriend, Luc Carl, even before she rose to fame. Curretly, their relationship status is off. But not to worry, they'll probably be back on by the time you're done reading. For the past two years, Gaga has been on tour, traveling the world. And recently, she's discussed her reluctance to settle down by owning a home. "I'm not ready to buy a house," Gaga said. "It feels like marriage or something. It's like such a commitment. I don't like it." On
Thanksgiving
,
ABC
aired A Very Gaga Thanksgiving. Because when I think of turkey day, I think of a wacky pop star who wears horns for the hell of it. But anyway, needless to say, the special was weird, and one of the weird things they revealed was that Lady Gaga got naked for
Tony Bennett
. The singer posed nude for Bennett so he could draw her for an upcoming issue of
Vanity Fair
. For Lady Gaga, this must have been a wonderfully iconic moment in her career. For Tony Bennett, he got to see a naked chick. Gaga explained the situation: "I walked in and said, 'Well, Tony, here we are,' and I dropped my robe and I got into position. I felt shy and thought 'It's Tony Bennett, why am I naked?'" A very sensible question. But Gaga went with it anyway. Because In addition to his legendary career as a multi-plantinum recording artist, Tony Bennett has also made a name for himself as a painter. His work is actually featured at the
Smithsonian
and
National Arts Club
.
Follow @YardFlex