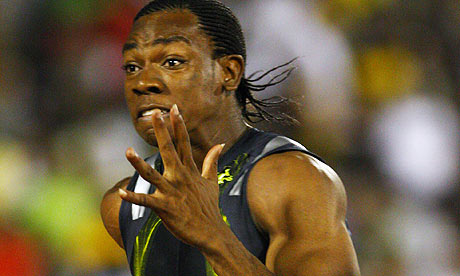 BERLIN (AP):
World champion Yohan Blake equalled his personal best of 9.82 seconds in the 100 metres to set a meet record yesterday, while Americans won gold in the 100 hurdles, shot put and high jump at the ISTAF event.
"That's why they call me the beast," Blake said. "There were some very good guys in this field, so it wasn't easy to win. I pushed myself to run faster. It's a wonderful feeling to win here. Life changed a bit after the world championship."
Trinidad's Richard Thompson was third in 10.08, with Jamaican Michael Frater - who helped Blake set a world record in the 4x100-metre relay in Daegu, South Korea - finishing fourth.
Blake ran the same 9.82 time at the Weltklasse meet in Zurich last Thursday. The previous meet record was 9.86 held by Maurice Greene and Asafa Powell.
Blake seized the world title in Daegu after training partner Usain Bolt was disqualified for a false start. Bolt, the Olympic champion and world record-holder, skipped the Berlin event.
Dawn Harper led a US sweep of the 100 hurdles in 12.68 seconds, ahead of Kellie Wells and Yvette Lewis.
Jesse Williams of the US won the high jump by clearing 2.33m while Trevor Barry of the Bahamas was second with 2.30m.
Kelly-Ann Baptiste of Trinidad claimed the 100m in 11.15, ahead of Jamaicans Sherone Simpson (11.24), Kerron Stewart (11.28) and Aleen Bailey 11.37.
Follow @YardFlex