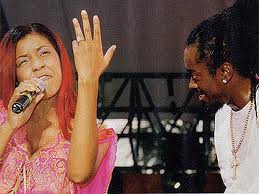 Internationally acclaimed Dancehall artiste, Moses "Beenie Man" Davis has gone into greater detail regarding his separation from his wife of 5 years,Michelle "D'A
ngel" Downer; implying that he is heartbroken by their recent marital issues.
Beenie Man told TVJ's EMix that he initially intended to divorce D'Angellast year but the couple constantly resolved their issues and ended up back together. However, the "King of the Dancehall" intimated that D'Angel's decision not to appear at his birthday party almost two weeks ago was the last straw; made worse by the fact D'Angel went to former rival, Bounty Killer's birthday party earlier this summer.
"Regardless a if mi and her have a divorce agreement to deal wid, I think she shudda still come a my birthday because mi is her husband and me is Marco Dean father, so why should you call me and tell me pon my phone seh yuh a go to Bounty Killer birthday party, when Bounty Killer disrespect you so much in the media and call yuh di worst tings," Beenie said. Bounty Killer, formerly was in a relationship with D'Angel, engaged in a lyrical battle with Beenie Man regarding the "Blaze" singer in 2006.
Given that factor, Beenie suggested that he could no longer take the emotional toll their issues had on him; asking D'Angel to send the divorce papers that would finally put an end to their rollercoaster marriage. "Mi jus' decide seh, Please mi a beg yuh, jus' finish mi heartache and mi hurt, just please mi a beg yuh, jus' sen di divorce papers," Beenie stated. D'Angelsent the divorce papers two days later and released a statement clarifying that she sent them and that they could no longer co-exist as a couple.
Despite their constant arguments Beenie explained that he and D'Angel tried several times to put their differences aside but now he implores it's time to sever ties for good. "With all due respect, mi love and respect mi wife but love and respect don't really cut it when di person don't gi yuh back di same amount of love that you give them," Beenie said.
Follow @YardFlex