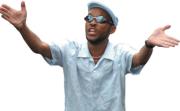 The Supreme Court will on Thursday start hearing the lawsuit filed on behalf of
convicted crime boss, Donald 'Zeeks' Phipps, for the return of millions of
dollars seized from him by the authorities.
'Zeeks' is trying to get back $18 million.
His attorneys want the money returned to the former Matthews Lane area leader
and his family.
They have pointed to the fact that when the Director of Public Prosecutions
dropped the charges against 'Zeeks' for unlawful possession of property two
years ago, she did not apply for the forfeiture or confiscation of the money.
They also intend to argue that a portion of the money was stolen while in the
custody of the police.
The $18 million was seized at Phipps' St Andrew home during a murder
investigation.
Phipps is now serving life behind bars, following his conviction for a double
murder.
Follow @YardFlex