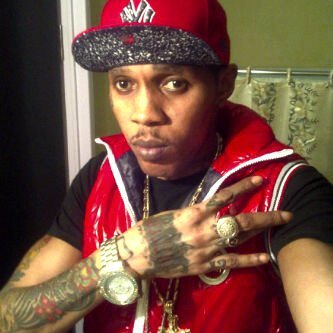 Hard hitting dancehall deejay Aidonia back from his European stint on Friday evening issued a response following statements made by controversial dancehall act Vybz Kartel on the Marvin Sparks – MTV Wrap Up About programme earlier.
According to Kartel, "Aidonia is a hungry local base artiste who is trying to get a buss, grabbing at straws and is a confused child."
The statement seem to have struck a nerve with the J.O.P head honco who quickly fire back citing Kartel as a 'controversial dancehall coward.'
"Kartel is a controversial dancehall coward misleading the public and will do anything to gain attention to maintain relevance. Me do me song I never call nuh name him run gone call up mi name inna interview bout this and that. So since is attention him want me a give him three days... all him have to do is accept the challenge and mek the people dem see who is really the baddest thing inna dancehall." - A militant Aidonia added.
In an interview with popular entertainment website 876radio.com, Aidonia also addressed several other issues now brewing between himself and the now light-skinned self-proclaimed dancehall hero.

Follow @YardFlex