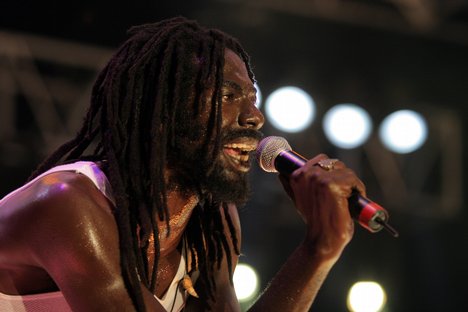 Hundreds of 'phone – switchers' flocked LIME stores in Kingston and St. Catherine yesterday morning (January 13) eager to switch from other networks to LIME Mobile TV phones to view the historic broadcast of reggae superstar Buju Banton's "Before the Dawn" Concert which will be broadcast live on LIME Mobile TV from Downtown Miami on Sunday.
Banton, who received his fifth Grammy nomination for his latest album 'Before The Dawn', will be making his first, highly anticipated, onstage appearance in several months.
"As soon as our stores opened this morning, we were inundated with persons coming in to trade their phones" says LIME Regional Special Projects Manager, Stephen Price.
Yesterday ( January 12) , telecoms giant LIME , provider of Jamaica's first mobile TV service announced that customers could access a 'mega deal' on television enabled Mobile handsets in exchange for their old phones from other networks.
LIME Mobile TV customers will be treated to live coverage of the "Before The Dawn" concert, which in addition to Buju Banton, will  feature performances by some of Jamaica's music elite including Stephen Marley, Wayne Wonder, Sly & Robbie, Gramps Morgan, Shaggy and Freddie McGregor.
The special handset sale, which continues until tomorrow (January 14), allows customers to trade in their handsets and access LIME Mobile TV handsets. 
LIME customers with Mobile TV handsets will, in addition to the Miami concert, be able to view live, and free of cost, as well as the iconic Rebel Salute which is also being staged this weekend.
In November 2010, LIME launched the Caribbean's first mobile television service in Jamaica which offers premium digital channels including local and international news, sports and entertainment channels.



Follow @YardFlex