Leslie Nielsen has died.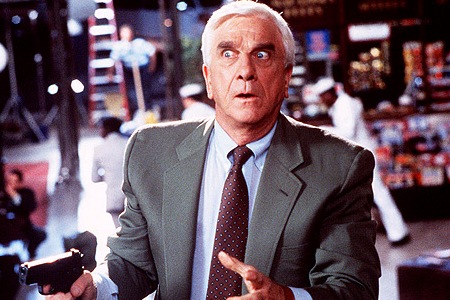 Surely, you can't be serious. Yes, the comedy great and "Airplane!" star passed away on Sunday in Fort Lauderdale, Florida, at the age of 84 after being treated for pneumonia. And don't call me Shirley.


It was lines like the above, delivered in Nielsen's patented deadpan, that gave the dramatic stage and screen actor an unlikely comedic revival later in life.


After beginning his career in the 1950s as a matinee idol, taking on the roles of dashing heroes in films such as the sci-fi classic "Forbidden Planet" and the stalwart captain in 1972's "The Poseidon Adventure," the Canadian-born actor switched gears in 1980 and took a chance with a slapstick disaster-movie spoof that would forever change his life.


Nielsen was at first reluctant to take on the role of the clueless Dr. Alan Rumack, but the white-haired, hilariously dopey MD became the comedic find of a lifetime, as the actor managed to steal the show in a movie packed with dozens of classic one-liners thanks to his impeccable timing and serious delivery.


It was an unlikely, but ultimately lucrative left turn in a long career that spanned more than 100 movies and 1,500 television appearances.


Follow @YardFlex