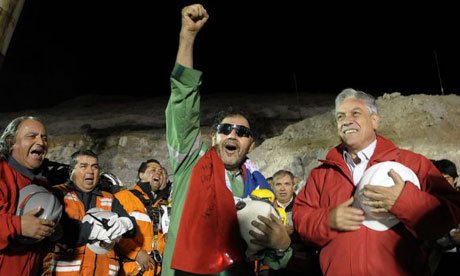 Bob Marley's Buffalo Soldier played as Victor Zamora Burgueno, one of 33 miner trapped underground in Chile since August 5, was rescued on Wednesday.


Burgueno, the 14th miner to be rescued, is a huge fan of Marley and to celebrate his safe rescue, a global news station played the song.


The last of the 33 miners trapped deep underground in northern Chile for more than two months has been rescued.


Luis Urzua, the shift supervisor who was credited with helping the men survive the first 17 days before rescue teams made contact, was greeted by his family and President Sebastian Pinera.


The six rescuers sent down to assist the miners must now be lifted through the hole in the cave.


Many of the miners have severe dental infections and some have eye problems.


One has been diagnosed with pneumonia.


However, Health Minister Jaime Manalich, stressed that all appeared to be in far better condition than expected.


The men were trapped underground when a rockfall caused a tunnel to collapse.


President Pinera meanwhile says he believed the rescue operation would change his country's image in the world.


Follow @YardFlex