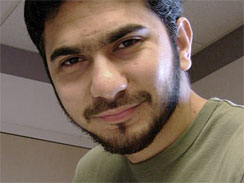 NEW YORK — A Pakistani-born US citizen was charged Tuesday with terrorism and attempting to use a weapon of mass destruction in the botched Times Square bombing.

The government said he confessed to receiving explosives training in Pakistan.

Faisal Shahzad — the son of an air force officer in a wealthy Pakistani family — was arrested Monday night, pulled off a plane that was about to fly to the Middle East.


According to the complaint, Shahzad confessed to buying an SUV, rigging it with a homemade bomb and driving it Saturday night into Times Square, where he tried to detonate it.


Shahzad admitted to receiving bomb-making training in Waziristan, the lawless tribal region where the Pakistani Taliban operates with near impunity, but there is no mention of al-Qaida in the complaint filed in Manhattan federal court.


Follow @YardFlex